6 Best Korean Gel Nail Polish Brands 2023
A good manicure can change your whole outfit. And with these best Korean gel nail polish brands, you can change your nail art anytime you want.
Nail art is the easiest and by far the cheapest way to add that zing to your whole look. A lot of other makeup items like eyeshadows, lipsticks, etc. cost a lot of money.
And doing a full face of makeup takes a lot of time too. But this isn't the case with nail lacquers.
A well-done gel manicure will last weeks. And you can change it any time you want to suit your outfits.
I decided to give some Korean gel nail polish brands a try. I mean why not? I've loved the Korean skincare brands and their products.
| | | |
| --- | --- | --- |
| Best Korean Gel Nail Polish Brands | Best Feature | Best Colors |
| Makartt Nail Gel UV Polish Set | Wide Color Variety | Burgundy, Macaron, Nude |
| Gellen Gel Nail Polish Kit | Extra Nail Accessories and Manicure Set | Coffee and Peach, Sweet Candy, Sweet Rose |
| YaoShun Gel Nail Polish | Super Affordable | Chameleon, Cat Eye, Cheese Candy |
| Withshyan 60 Seconds Gel Nail Polish | Quick Drying | Grey Chiffon, Mimosa, Silk Kaki |
| 3CE StyleNanda Nail Lacquer | Strengthens Brittle Nails | Calm Yellow Red, Sand Beige, Dark Burgundy |
| Etude House Play Nail | Chip Resistant | Syrup, Neon, Jelly, Yoghurt |
How I tested the best Korean gel nail polish brands?
I tried out several Korean nail polish brands that are popular and tested them based on the parameters given below. I then rated them on a scale of 1-5.
Durability: the nail lacquers need to be chip-resistant and stay on a long time on your nails.
Color Variety: I checked if there are several different colors and finishes available from the brand.
Safety: I also examined the ingredients to see if they are free from harmful chemicals and safe for sensitive skin. 
Top Korean Gel Nail Polish Brands 2023
This is what I got in the mail! So happy about my étude house nail polish and my Korean name tag c: pic.twitter.com/RroIyyjIvZ

— Tifa (@HunnyMoonKiss) March 9, 2013
How To Choose The Right Korean Gel Nail Polish Brands For Yourself?
Choosing the right Korean gel nail polish brand for yourself can make a significant difference in the quality and longevity of your manicure. Here are some key factors to consider when selecting the best Korean gel nail polish brand for your needs:
Quality and Durability:

Look for brands known for producing high-quality gel nail polish that lasts longer without chipping or fading. Customer reviews and ratings can provide insights into the durability of a brand's products.

Variety of Colors and Finishes:

Ensure the brand offers a wide range of colors and finishes to match your preferences and style. Whether you prefer classic, bold, or trendy shades, having options is essential.

UV/LED Compatibility:

Check if the gel nail polish is compatible with both UV and LED lamps. Compatibility with both types of curing lamps provides flexibility and convenience during the manicure process.

Formula Ingredients:

Pay attention to the ingredients used in the gel nail polish formula. Look for brands that prioritize safety and use non-toxic, hypoallergenic ingredients to minimize the risk of allergies or skin reactions.

Ease of Application:

Some gel nail polish brands offer user-friendly formulas with smooth application. Consider brands that provide gel polishes that are easy to work with, even for beginners.

Curing Time:

Gel nail polishes come with different curing times, which can affect the overall convenience of the manicure. Brands that offer quick-curing options are suitable for those with a busy schedule.

Base and Top Coats:

Check if the brand offers complementary base and top coats designed to work seamlessly with their gel polish colors. Using matching products from the same brand can enhance the overall performance and longevity of your manicure.

Price and Affordability:

Consider your budget and look for Korean gel nail polish brands that offer a range of price points to accommodate different budgets. Keep in mind that higher-priced options may come with added benefits in terms of quality and longevity.

Customer Reviews and Recommendations:

Research customer reviews and seek recommendations from nail enthusiasts or professionals to gain insights into the performance of specific brands. Real-life experiences can help you make an informed choice.

Brand Reputation:

Established and reputable brands often have a track record of delivering consistent quality. Brands with a strong reputation in the nail care industry are generally a safe bet.

Availability:

Check if the brand's products are readily available in your area or online. Accessibility can affect your ability to replenish your favorite colors or products.

Skin Sensitivities and Allergies:

If you have sensitive skin or allergies, opt for gel nail polish brands that are known for being gentle and hypoallergenic. Look for products labeled as "5-free" or "7-free" to avoid common allergens.

Testing and Certification:

Some brands undergo testing and certification for quality and safety. Look for certifications that indicate compliance with industry standards.
Ultimately, the best Korean gel nail polish brand for you will depend on your personal preferences, nail care needs, and budget. Experimenting with a few different brands and colors can help you discover your favorites and achieve salon-quality gel manicures at home.
Benefits Of Choosing A Korean Nail Gel Brand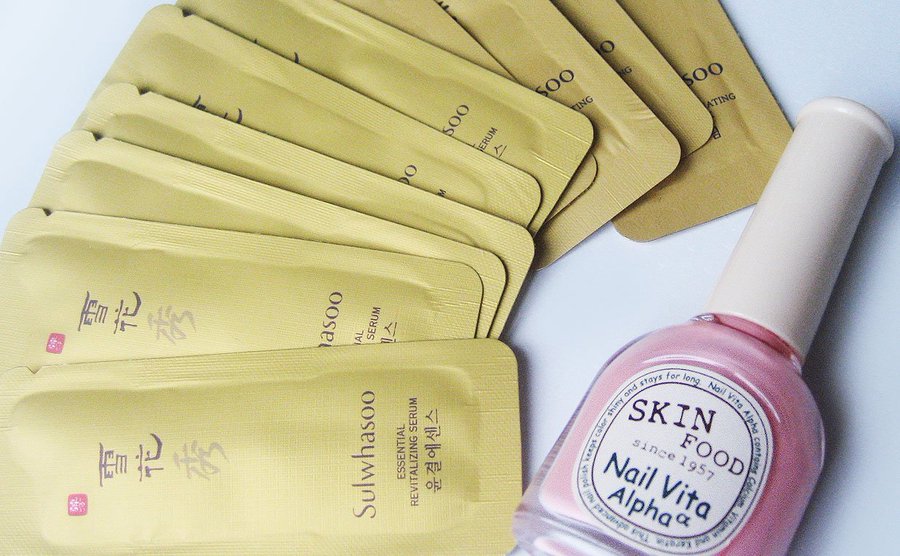 If you're wondering why on earth you should get a nail gel from a Korean brand only and not from any other source, I've got some news for you. Not all nail gels are made the same. The formula, thickness, and ease of application differ. There's even the question of harmful chemicals being present in certain nail polishes compared to others. Here's why Korean nail gels are better than the rest.
The formula is thicker: Regular nail polishes have a thin, liquidy consistency. So you'll need to put multiple coats of nail varnish in order to completely make your nail color look opaque. This isn't the case with Korean nail gels. One coat is enough to cover the entirety of your nail in a rich color.
More strongly pigmented: A Korean nail color is more strongly pigmented so the color you see in the bottle is the color you will get on your nails.
Lack of harmful chemicals: Most low-end nail polish brands contain one or more of the "unhealthy" nail polish ingredients – toulene, DBP, and formaldehyde. A lot of korean brands (yes, even the cheaper ones) are free from these substances.
Makartt Nail Gel UV Polish Set
Makarrt is one of the lesser-known Korean gel nail polish brands out there. But what attracted me to this gel set was the promise of a non-toxic nail polish formula.
And I was happy to see that Makartt does use purified water, natural ingredients, etc., and cuts down on harmful chemicals in their nail lacquers.
There was also a good variety on offer with the nail lacquers coming in a set of dark, nude tones, bright reddish tones, and soft pastel shades.
I also liked that each set comes with a UV nail lamp so you can get a salon-like manicure experience at home.
Now coming to the nail polish, it kind of disappointed me as the mauve shade I used on my nail started bubbling and didn't stay smooth like expected.
Also, despite the brand's claims that the polish lasts 2 weeks, my nail color started peeling off in just 3 days.
So these nail lacquers are for short-term use only.
Pros:
High gloss finish
Comes in a variety of colors
Available in matte shades
Non-toxic ingredients
The set comes with nail lamp
Cons:
Polish bubbles and doesn't cure well
Flakes easily
Colors Available:
Red
Plum
Mauve
Yolk Yellow
Flamingo Pink
Green Apple
Sky Blue
Light Blue
Black
White
Taupe
Nude
Ratings – 4/5
Gellen Gel Nail Polish Kit
If you're looking for a nail polish set to gift someone special, this would be the perfect one.
I was elated looking at the several little goodies in the set. Apart from the 12 nail polishes, I also got a UV nail lamp, hand masks, nail rhinestones, and nail stickers.
However, some of the things advertised (like the manicure brush and file set in my case) was missing from the nail kit.
I don't know if this was just that one kit I ordered or if it's something that happens all the time.
The nail polish however was good. That's about it. They spread well and did not chip as easily as the Makartt ones.
But there was nothing exceptional about them either.
Pros:
Environment-friendly, non-toxic formula
No chemical odor
Wide color variety
Comes with UV lamp, top coat, and nail art stickers
Contains pair of hand mask gloves
12 nail polish shades in one set
Cons:
Nail polish consistency is too thick
The lamp doesn't cure nail polish fast enough
Some nail decorations were missing
Colors Available:
Pastels: Shades of pink, blue, lilac, grey
Neutrals: Grey, black, white, taupe, brown, cream, tan
Rainbow colors: red, pink, orange, blue, violet, dark purple, green
Fall Colors: Pink, red, maroon, brown, orange, white, tan
Nudes
Ratings – 4/5
YaoShun Gel Nail Polish
I came across this gel nail polish kit on Amazon and ordered it as I was intrigued at the pricing.
It had all the accessories and more that I got from Gellen and Makarrt Nail Polish sets and it cost me several dollars less.
But I soon realized that the lower price is also reflected in the quality.
The UV lamp worked well and all the accessories were there. But the quality of the manicure set was according to its price.
What about the nail polishes? Unfortunately, they were a bit disappointing as the formula was too thin.
I had to apply several coats to make it look opaque. And when I tried the glitter polishes I found huge chunks of glitter in the formula that just wouldn't stay on my nails.
The brush was intriguing as the thin structure is supposed to help you create lines, etc. for nail art.
But it's just the one brush in the set. And its thin, hard bristles are not equipped for regular nail polish application.
Pros:
Very affordable
Comes with UV lamp, manicure set, hand masks, and nail art set
Six nail colors in one set
Thin brush applicator for easy nail art
Cons:
Brush bristles are too hard
Very thin formula
Glitter chunks are too big
Not enough color pigment
Chemical smell
Colors Available:
White
Black
Dark Blue (Glitter)
Grey
Golden (Glitter)
Pink
Silver
Grey
Nude
Lilac
Ratings – 3/5
Withshyan 60 Seconds Gel Nail Polish
I was lured into buying the Withshyan nail polish due to its siren song about 60 seconds dry-time.
And was it true? Kind of. No, this nail polish won't dry in 60 seconds.
And yes, this will dry more quickly than other brands and without any help from UV lamps.
I found the nail polishes a bit hard to apply as the consistency is very thick. But on the bright side, you'll only need a coat or two for complete coverage.
Also, the glitter ones are really difficult to take off!
And they don't dry to a smooth surface, so you might give yourself some exfoliating action while touching your face with your nails.
Pros:
Dries quickly without UV lamp
Free from 10 commonly-used chemicals
Strengthens nail bed
Softens nail
Cons:
Thick, lumpy texture
Glitter polish is very hard to remove
Colors Available:
Ratings – 4.5/5
3CE (3 Concept Eyes) StyleNanda Mood Recipe Long Lasting Nail Lacquer
If it's one thing I can't stand, it's how some lacquers leave my nails yellow and brittle. So I was specifically looking for Korean gel nail polish brands that are nourishing and non-toxic.
This particular set by cosmetic brand 3CE checks both boxes. You won't find any hazardous chemicals here that can make your nails brittle.
But on the other hand, there are ingredients like jojoba oil, sweet almond oil, and others that keep your nail bed soft and protected. The added vitamin E helps too!
I also liked the jelly formula of this lacquer it made polish very easy to spread.
The formula was more translucent then Gellen but I didn't mind as it didn't chip easily. And besides, you can build up the coverage as you want.
So you have to add more coats for a creamier, more opaque look.
There's just one little caveat. It's expensive. But if you value nail health over color choices and money, this is not a bad choice.
Pros:
Jelly-like consistency for easy application
Translucent buildable formula
Nourishing oil and vitamin E-rich formula
Cons:
Takes longer to dry
Pricey
Multiple coats needed for opaque finish
Limited color variety
Colors Available:
Grey
Nude
Light Pink
Baby Pink
Warm Yellow Pink
Sand Beige
Classic Red
Warm Red
Deep Burgundy
Peach
Nude Brown
Dark Brown
Ratings – 4.5/5
Etude House Play Nail
Everyone's heard of Etude House or rather their skincare line. So it should come as no surprise that they're into makeup too.
I confess that I got this nail polish solely because the brand is just so popular. And I wasn't really disappointed.
If you compare this nail polish to the ones coming in sets like Gellen or Makartt, it definitely lasts longer and is more chip resistant.
I also noticed that unlike other nail lacquers this one doesn't get thick or calcified when you leave the bottle out for some time.
However, this nail polish brand does have its limitations.
For starters, the formula is very thin. So you have to heap on multiple layers to get an opaque finish.
It aslo takes longer to dry unless you have a nail lamp handy at home.
Pros:
Doesn't chip off easily
You can adjust the coverage
Doesn't thicken in the bottle
More quantity than other brands
Cons:
Can take longer to dry
Thinner consistency
Needs multiple coatings
Single polish more expensive comparatively
Colors Available:
Yellow
Lilac
Pink
Peach
Red
Gold (glitter)
Taupe (glitter)
Ratings – 4/5
Korean Nail Color Trends 2022
Syrup Nails
Holographic (Aurora Nails)
Diamond Nails
High Heel Nails
Kpop Nails
There isn't just gel nail polish, the Korean nail polish brands also boast of other formulas like matte and peel-off formulas.
Also, there are press-on nails and nail stickers that you can use to either spice up your existing manicure or try something special or last minute.
Changing your nail color is the easiest way to tie your outfit and accessories together.
And with these Korean gel nail polish brands promising you such a variety of colors, it becomes super easy to do a gel manicure at home.  
Why You Should Trust Koreatruly?
All our editors including the author of this article, Song-i do extensive research on the products reviewed and recommended in the article. We also use these products ourself to give you accurate, first hand information without any prejudice or bias. Koreatruly has also got a team of medical reviewers and skincare experts to help give accurate advice and provide research-based facts concerning a product, its formulation or ingredients.
Also Read:
Must Have Korean Beauty Products
Etude House Play Nail Gel Polish
The best Korean gel nail polish brands are long-lasting, chip-resistant and free of toxic chemicals. The Etude House Play Nail Gel Polish comes in glitter, matte, glossy finshes.
Product SKU: NEB2K522UV
Product Brand: Etude House
Product Currency: USD
Product Price: $8.58
Price Valid Until: 2024-10-04
Product In-Stock: InStock