10 Best Korean Streetwear Sneakers Reviews 2023 | Stylish Shoes For Men You Must Have!
Tired of buying sneakers of the same generic brands? Well, if you affirmed it, then you are in here for a treat with thee Korean streetwear sneakers!
Everyone knows that Koreans are all over the world in every major industry we look into, from music, skincare, beauty to food, and most importantly, fashion.
Koreans are winning all over the world with their innovation and advanced technology.
Their fashion industry is flourishing not only because of innovation but also because they put emphasis on fashion that's catchy, chic, and yet comfortable.
So, what I am basically trying to convey is that you can avail yourself of not only clothing, accessories but also the best pairs of sneakers from its fashion industry.
Also, not to mention that finding the right pair of sneakers for you isn't just about the hype and trend they set, but rather it needs to last long and make you feel comfortable while you are in them.
Adding to this, the Korean market keeps on releasing new sneakers every other week so, it kind of becomes tough to keep up both with the trend and the comfort level you seek.
So, that's why I have come to your rescue with the best Korean streetwear sneakers for you to make you look stylish and yet comfortable.
Here are a few of the best and sought after sneakers that I am sure will suit your needs and style statement, as I like to go by the lines that "the ideal pair of sneakers is not only important but also needs to build your look!"
Also, while making the list of these best Korean streetwear sneakers, I kept in mind a few factors. For instance, the product's cost, durability, and comfort it provides. Adding to that, it's wearability and, of course, the design because I know no one wants to go out of fashion.
So here's a tried and tested list of the top 5 Korean streetwear sneakers that I have curated-
Best Korean Streetwear Sneakers 2023
Fila Korea X BTS Sneakers
FILA is one of the most popular Korean sneakers/ shoes brands all over numerous countries.
The brand's shoes are mainly suitable for most sports activities. But what I feel is, it wins hearts when it comes to mainstream fashion. Honestly saying, FILA makes suits all styles, from streetwear to sports, and elevates all your looks.
Adding to that, the sole of the sneakers are made from high-quality materials, making you feel comfortable while you move or work.
What I personally would like to enlighten you with is the fact that FILA comes with equally amazing sneakers for both men and women. Adding to that, the reason why this Korean sneaker brand is on my list is because of its affordability.
Not only does FILA make the best out of sneakers style, but it also makes sure that everyone is able to afford it. The prices of FILA sneakers are much lower than that of most sought after brands like Adidas and Nike.
Also, since one of the most popular K-pop groups, BTS, has become FILA's model, the popularity of the brand is reaching the sky.
So, if you desire to get yourself updated with the Korean sneakers fashion without going out of your budget, then I would suggest you go with FILA.
DOMBA
Another Korean sneakers brand that cannot be missed out on is DOMBA. The reason being it has created a wave by setting the bars high for almost every other sneaker brand.
DOMBA's unmatched designs, affordable prices, and guaranteed quality check make anyone go for the brand blindly.
My personal favorite feature of the brand is that it provides simple designs that never go out of style. Adding to that, they keep the comfort check in control with each of their sneakers.
Also, they come in every size for both men and women. Adding to that, if you know how to combine well, these sneakers go well with numerous different styles.
So, if you want a sneaker brand that gives you comfort, style statement, and a great deal, then you will not like missing out on DOMBA.
The DOMBA sneakers are going to give you a comfortable experience all day long with an upgraded style statement that never goes out of fashion, and you will definitely love it.
I want to assure you of the brand that once you get them on, you will never opt for any other sneakers.
I mean, DOMBA is literally giving you the best deal by being comfortable, of high quality, and of course, the unmatched designs.
MLB (Major League Baseball) Sneakers
You might be aware of the famous sports professional organizations for baseball, MLB. If you have heard of the organization then, you might be aware of the fact that their symbol has Jackie Robinson in baseball posture.
So, basically, MLB is Major League Baseball, which has inspired the MLB as a brand's logo. So, because of this, the brand has received attention and love from people all over the world.
Apart from just sneakers, the company also specializes in other fashion products, for instance, bags, accessories, hats, bags, and more.
But the well-known sneakers by the brand is the MLB Big Ball Chunky shoe manufacture proceedings, which is famous for its meticulous production of the sneakers. It has two layers of soles that are glued together with first-rate glue.
Adding to that, it is interlaced with intensely pliable conventionalized lines that add to the sole and give the impression that it has three soles attached to it.
Also, the sneakers are super comfortable for anyone who wears them. So, MLB gives you both convenience and quality.
A few things that I would like to add about the brand with my personal experience is despite being too quirky, the simplicity of the sneakers' pattern is going to win you over with its unique designs.
Also, MLB Big Ball Chunky also attracts sneaker lovers with its unmatched designs, patterns, and quirky colors. Adding to that, you can also combine it with all styles.
WISE ENOUGH
As the name suggests, the brand WISE ENOUGH is wise enough to combine the best of advanced innovation with the best of traditions and make the most of it.
So, basically, WISE ENOUGH adds sportiness to tradition and also manages to keep the quality and comfort of utmost importance.
It is a brand that has combined the classic skill of shoes but with the pleasant plot twist of sneakers.
One of the features that make the brand stand out is its method of producing the shoes. The brand uses the Traditional Goodyear Welt method, which is basically a method of threading the soles but not using any sort of adhesives.
Also, WISE ENOUGH uses fine quality leathers from renowned tanneries all Polaris, Italy, and even Germany. The makers of the brand are truly inspired by the luxurious textures, hip-hop culture, and even the color of the leather.
Basically, what I am pointing out is that it is not easy to follow their sneakers, and adding to that, it cannot be produced on the mass level as well.
So, if you want to invest in shoes that are high in quality but will give you the style statement along with being comfortable, WISE ENOUGH will be the Korean sneaker brand you are looking for.
SAPPUN
Now the last brand in my list of the best Korean sneakers is SAPPUN. The brand is also a famous Korean brand for its amazing quality sneakers.
Established in Seoul recently in 2017, the brand, though new, is winning hearts all over. The popularity of the brand is making spaces in people's hearts who prefer a variety of feminine, elegant, and mature footwear.
One thing which made me fall absolutely in love with the brand is that they provide a wide range of colors in each of their products. Each product comes in at least seven different color ranges.
Also, the brand makes sure that you are comfortable all day long in their products, and your feet don't hurt by the end of the day. So, for that, they keep in check the quality and comfort of each product they manufacture.
With an affordable price range, SAPPUN is making a difference in how an upgrade in style doesn't need to cost more.
Each of the sneaker models by SAPPUN goes well with most of the styles, and so you don't have to get too many sneakers just for the sake of your everyday styling. 
So, if you want a fashion statement that is not going to cost you more but also give an upgrade to your collection of sneakers.
Namu Shop x Vans Old Skool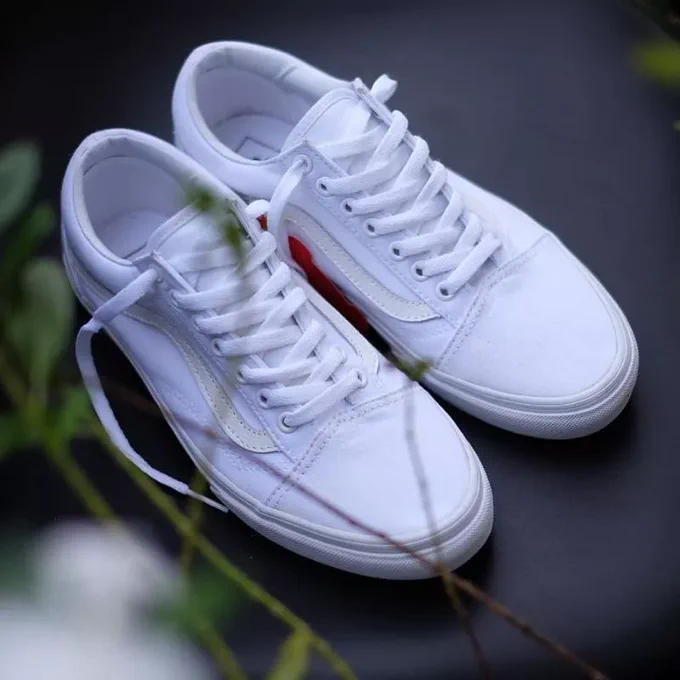 Collaborating with Vans, Korean boutique Namu Shop has given the classic Old Skool silhouette a fresh twist. These sneakers feature playful details, colorful patterns, and embroidery that embody Korean street style.
The Namu Shop x Vans Old Skool collection offers a range of unique designs, making them an excellent choice for those seeking a distinctive and eye-catching look.
Eytys Angel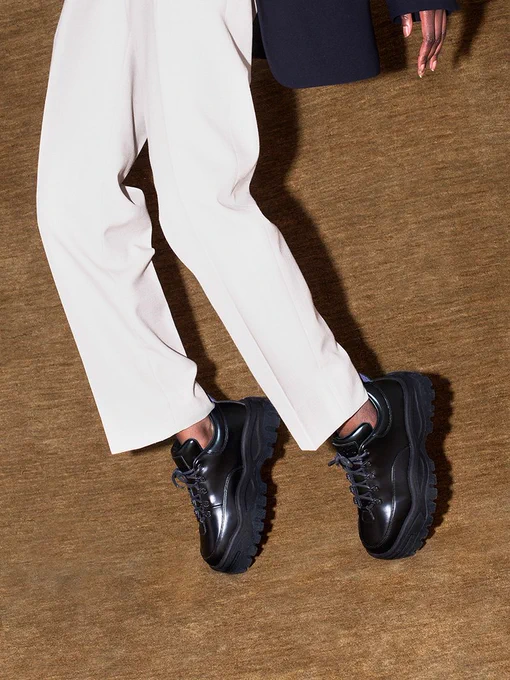 While Eytys originated in Sweden, it has made a significant impact on Korean streetwear. The Angel sneakers from Eytys are characterized by their chunky sole, minimalist design, and unisex appeal.
These sneakers offer both style and comfort, making them suitable for everyday wear. The chunky sole not only provides a fashionable edge but also ensures a comfortable stride, making the Angel a standout choice in the world of Korean street fashion.
LIFUL x Reebok Classic Leather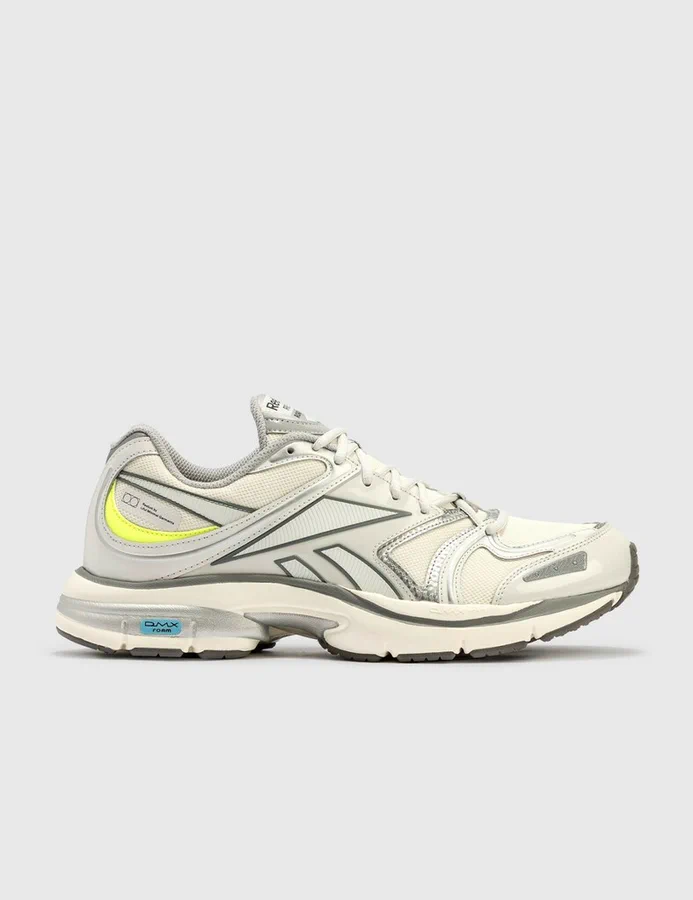 Korean streetwear brand LIFUL collaborated with Reebok to reimagine the Classic Leather silhouette. These sneakers combine vintage aesthetics with modern design elements, offering a unique take on a beloved classic.
Expect innovative color combinations and premium materials that enhance both style and comfort. The LIFUL x Reebok Classic Leather collection reflects the fusion of Korean street fashion and sportswear heritage.
W Concept x Nike Air Max 1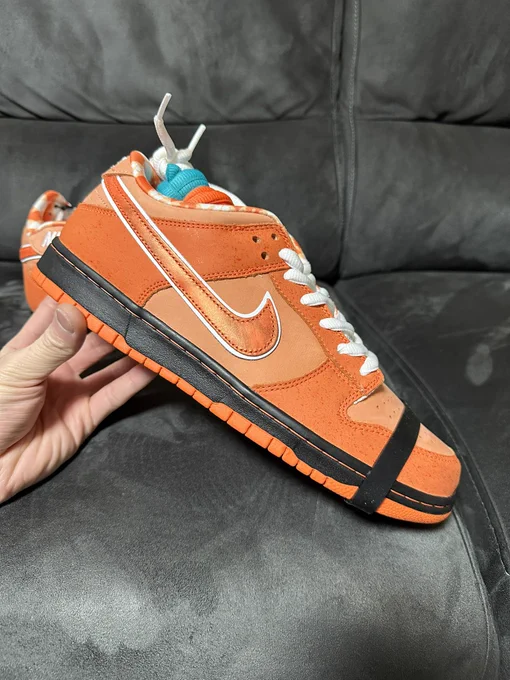 W Concept, a Korean fashion retailer, has joined forces with Nike to create exclusive Air Max 1 colorways. These sneakers showcase innovative color combinations and materials, adding a unique touch to a classic silhouette.
The collaboration between W Concept and Nike represents a marriage of global sportswear giants and Korean streetwear sensibilities, resulting in highly sought-after sneakers that capture the essence of contemporary street fashion.
Bottom Line on the Best Korean Streetwear Sneakers
So, that's all on my list of the brands that provide you with the best Korean sneakers.
Also, I am assuming that by the end of the list, you have made your mind on which Korean sneaker brand you are going to reach out to by making an upgrade in your wardrobe.
But somehow if you still haven't, I would suggest you choose one from mine.
The Korean fashion globe has made a massive impact in less than a decade on the globe, and everyone is going crazy mad about it.
If you, too, are a sneaker enthusiast and want to add Korean sneakers to your sneaker's collection, then it is high time you go for one.
There are over a dozen Korean brands that make the best sneakers for every gender. Also, my list of these brands is the most sought after brands when it comes to sneakers.
I can assure you the best of quality, with an affordable price and comfort statement to you with these sneakers.
So go ahead and get yourself the best Korean sneakers to upgrade your wardrobe and upgrade your style!
Why You Should Trust Koreatruly?
All our editors including the author of this article, Song-i do extensive research on the products reviewed and recommended in the article. We also use these products ourself to give you accurate, first hand information without any prejudice or bias. Koreatruly has also got a team of medical reviewers and skincare experts to help give accurate advice and provide research-based facts concerning a product, its formulation or ingredients.
Also Read:
Most Popular Korean Shoe Brands