Skinfood Products Reviews 2023 | 12 Must-Have Skincare For Your K-Beauty Routine
If you are planning to start your Korean skincare journey, SKINFOOD is a great brand to try out. As the name indicates, SKINFOOD products mostly use food-based ingredients in their formulas.
They incorporate unique ingredients into their products which includes egg whites, Brazillian black sugar, South Asian Royal black honey, French grapes, peach, avocado, rice etc.
You can find a wide range of products that can easily fix your beauty woes.
Related: High End Korean Skincare Brands
They believe in utilising the antioxidants, vitamins, minerals and other nutrients that are found in these edible ingredients to perfect your skin and make it healthy.
This includes skincare products like cleanser, face masks, moisturisers, lip scrubs, serums, under-eye creams etc and even hair care products like shampoos, conditioners, hair masks, hair oils and essences.
| | | |
| --- | --- | --- |
| Best Skinfood Products | Type of Product | Chief Ingredients |
| Skinfood Aloe Vera Soothing Gel | Face Gel | Aloe Vera 93%, Beta Glucan, Witch Hazel |
| Skinfood Peach Sake Toner | Toner | Peach Extract, Allantoin, Rice Ferment Filtrate (Sake) |
| Skinfood Egg White Pore Mask | Face Mask | Albumen Extract, Lactic Acid, Olive Oil, Kaolin, Silica |
| Skinfood Royal Honey Propolis Enrich Essence | Essence | 63% Black Bee Propolis & 10% Royal Jelly Extract |
| Skinfood Egg White Pore Foam | Cleanser | Albumen Extract, Lechitin Extract, Matricaria |
| Skinfood Black Sugar Wash Off Mask | Face Scrub | Black Sugar, Candelilla, Lanolin, Shea Butter, Meadowfoam |
| Skinfood Strawberry Sugar Wash Off Mask | Face Scrub | Black Sugar, Strawberry, BHA |
| Skinfood Peach Pore Serum | Serum | Peach Extract, Rice Ferment Filtrate (Sake), Licorice, Argan Oil |
My favourite part about skinfood products is the affordability. You do not have to empty your purse to buy their products, they deliver great quality products that are easy on the pocket. This also makes it a great gifting option for skincare lovers.
Well, here is a good comparison of Japanese vs Korean Skincare.
You can find products for every single skin type and hair type at skinfood that can tackle various concerns without aggravating them.
About The Skinfood Korean Skincare Brand
The Korean skincare brand Skinfood is one of the leading names in the beauty world. They are known for their quality ingredients and luxurious products, which have been praised by beauty gurus and skincare enthusiasts alike.
Skinfood originated in Korea, however, the brand can now be found in many countries around the world. The brand focuses on natural ingredients, using herbal and fruit extracts to nourish and hydrate the skin.
This is why their products are considered to be so effective; they are natural and have no chemical nasties like parabens, sulfates or phthalates.
With a wide range of products ranging from cleansers to toners, masks and creams, Skinfood offers something for every skin type. From dry to oily, sensitive or acne-prone, there is something for everyone.
Whether you are looking for a quick pick-me-up or a comprehensive skin care system, Skinfood has you covered!
Is Skinfood Good For Sensitive Skin
If you have sensitive skin, you may be wondering if Skinfood products are the right choice for you. The truth is, yes, they are!
Skinfood has an amazing range of skincare and makeup products, which are created with nourishing ingredients to soothe sensitive skin. Many of their products have strong anti-inflammatory properties which can help reduce flareups and reduce the symptoms of sensitivity.
Their light, non-greasy formulas can provide comfort to sensitive skin without leaving it feeling too dry or tight. Their natural ingredients are carefully selected to provide deep hydration and gentle relief to sensitive skin.
They also have products which contain hyaluronic acid to lock in moisture and provide added nourishment.
Furthermore, their cruelty free and free from harsh chemicals nature make them a top choice for those who are looking to provide gentle treatment for their delicate skin.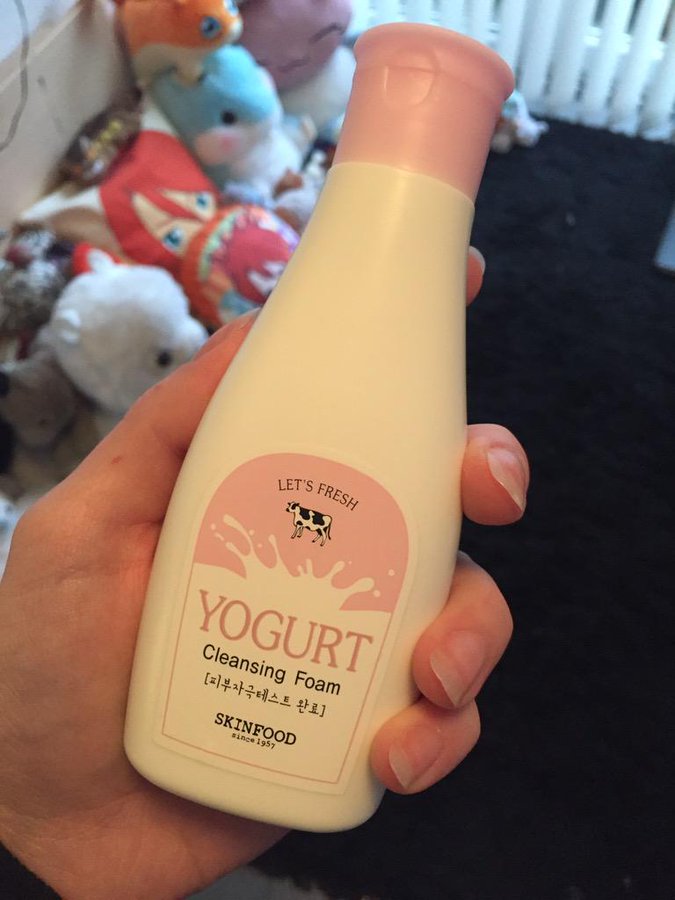 Additionally, Skinfood's products can be used as part of an ongoing skincare regime or to target specific issues.
If you want to give your skin extra TLC, their masks can prove to be particularly beneficial. For example, their raw honey bubble mask contains natural antibacterial oils to protect your skin from bacteria and irritation.
In short, Skinfood products are fantastic for treating and protecting sensitive skin. Their nourishing formulas contain natural ingredients which soothe, hydrate, and protect so that you can achieve a healthy skin balance.
With Skinfood, you can treat your skin to the tender loving care it deserves.
Do Skinfood Products Help With Acne
When it comes to tackling the dreaded condition known as acne, many people turn to Skinfood products to get the job done.
Skinfood is known for its natural ingredients, which are said to help reduce the appearance of acne and improve the overall appearance of the skin.
Reviews from users of Skinfood products suggest that this is an effective way to help reduce acne, but many people wonder how long these results will last and if Skinfood products are the right choice for their skin type and condition.
At the end of the day, it really comes down to personal preference and what works best with your particular skin type.
However, anecdotal evidence suggests that Skinfood products may indeed provide some relief from acne.
Users of these products report that their skin feels cleaner and healthier, with fewer breakouts and less redness.
Areas of the face which were previously prone to acne seem to improve in appearance and texture, thanks to Skinfood's natural ingredients.
Facial moisturizers, masks and toners all appear to be beneficial in improving the overall look of people's skin.
Ultimately, there is no harm in trying Skinfood products to see if they work for you.
All signs point to these products having an overall positive effect on acne-prone skin, but because everyone's skin is different, it's always a good idea to consult a dermatologist before starting a regimen.
With good skincare practices and the right products, you may just find that Skinfood can help to you keep acne at bay.
Check out my review of below products for Acne based skin.
Skinfood Vs Laneige Brand Comparison
When it comes to the comparison between Skinfood and Laneige brand beauty products, there is a diverse range of opinions.
Skinfood is known for its natural ingredients and affordable pricing, however, Laneige has also been gaining traction in recent years due to its innovative products.
For those looking for a strong but hydrating skincare regimen, many opt for Laneige, while others may find what they need in Skinfood.
Skinfood has a wide range of affordable and simple products, suitable for all skin types. Some of their popular products are popularly used to cleanse, exfoliate and hydrate the skin.
It is important to note that some products in Skinfood's line contain ingredients like parabens, sulfates and silicones, which are not widely accepted in the beauty industry right now.
Conversely, Laneige has more modern, innovative and luxurious products. Although slightly pricier than Skinfood, the quality of Laneige products and the results that users get prove worth it.
Laneige weaves natural performing ingredients and advanced technology to create a long-lasting and effective care.
Their nutrient-filled serums, sleep masks and hydrating creams consist of natural ingredients such as green tea, hyaluronic acid, and even volcanic clusters which address common skin issues such as dullness, uneven skin tones, and enlarged pores.
When it comes to deciding between the two brands, both offer fantastic products, although each consumers' skin needs may vary.
Choosing the right products for your skin type, budget and needs is key. Explore both brands, research their products and get to know your main skin concerns, so you can make an informed decision.
Best SkinFood Products of 2023
If you are interested in trying out skinfood products or want to know more about them, keep reading to find out the best skincare products that will make you fall in love with the brand.
SKINFOOD Aloe Vera Soothing Gel
Aloe vera gel is the one skincare staple that everyone should have in their skincare collection. This wonder ingredient provides countless benefits to your skin.
It is rich in Vitamin A, C, E and B12 which makes it extremely beneficial for your skin and hair.
Every time I feel a slight itching, irritation or inflammation in my skin, I resort to aloe vera gel to soothe the skin and relieve such issues.
One of the main features of aloe vera is that it has anti-inflammatory properties so it acts as a treatment for various skin issues including acne, sunburn, infections, cuts or even bug bites.
The skinfood aloe vera soothing gel is composed of 96% Aloe vera gel 93% aloe vera leaf extract that soothes your dull and tired skin.
This is such a versatile ingredient that can be used in multiple ways. You can apply it directly on your skin or you can even mix it with other skincare and haircare products like moisturiser, shampoo and even your brow gel to get great results!
The antibacterial property of aloe vera gel can address a lot of your skin issues and protect it from further damage so you do not have to think twice before purchasing this.
This aloe vera gel also includes other ingredients like witch hazel extract, birch sap, sodium hyaluronate and beta-glucan that improves the vitality of your skin and makes it soft and supple.
The tub contains up to 300ml of aloe vera gel so you can also use it in your body without worrying about running out of it.
Pros:
Anti-inflammatory
Moisturises the skin
Value for money
Contains 96% Aloe leaf extract
Suitable for all skin types
Versatile product
Cons:
Related: Best Korean Aloe Vera Gel
Skinfood Peach Sake Emulsion
An emulsion is a moisturiser that is lightweight and non-sticky and its main role is to make sure that your face absorbs the rest of your skin products well.
Many don't have an emulsion as a part of their skincare routine but it has made all the difference for me.
This emulsion from skinfood is enriched with the goodness of peach sake. Peach is highly nutritious and is filled with Vitamin A, Vitamin C and antioxidants.
Sake is extracted by fermenting rice and it has been an important part of Japanese traditions. It encourages blood circulation, tightens pores and balances the sebum level of your skin.
These two ingredients combine to give you the best results and boost the vitality of your skin in no time.
An emulsion is a great addition to your skincare routine since it helps in utilising the benefits of all your skincare products to the maximum.
Pros:
Minimises pores
Balances the sebum production
Anti-ageing
Moisturises the skin
Cons:
Might not suit sensitive skin
Contains alcohol
Skinfood Wash Off Rice Mask
If you are looking for a gentle exfoliating rice mask, say no more. This wash-off mask from skin food is infused with the goodness of nutrient-rich rice.
This is also known as Odae rice water and it is said to be an expensive and popular brand of rice that is sourced from the Cheorwon region of South Korea.
It is also rich in proteins, minerals and vitamins which will make your skin brighter and radiant. It also contains linoleic acid and Vitamin E.
Rice water is well known for its amazing benefits for the skin and skinfood claims that using this mask is equal to applying home-brewed rice water on your face. According to Haireveryday, it is good for hair too.
This is suitable for those with people with dry to normal skin who want to improve their complexion and get rid of dead skin cells from the face.
Pros:
Exfoliates
Contains rice extracts
Suitable for dry skin
Fights acne
Brightens complexion
Smoothens skin texture
Cons:
Contains parabens
Loose consistency
Skinfood Peach Sake Finishing Powder
A finishing powder is a great makeup product that helps to keep your makeup intact and reduces the visibility of pores, fine lines, wrinkles, uneven skin texture and remove any excess sebum from your face.
One main problem faced by those with oily skin is the excessive sebum that pops up after you apply makeup. Usually, we resort to blotting papers to fix the issue but this product from skinfood can really help you tackle it.
This finishing powder from Skinfood is made up of ultra-fine micro silica powder. This product will be really helpful for those with oily skin and excess sebum.
It helps in absorbing the oil and grease on your face to make your face look matte and fresh for long hours.
You can also use this under your eyes to remove any makeup particles like eye shadow that might have settled there during application.
Pros:
Controls sebum
Long-lasting
Reduces the visibility of fine lines, wrinkles.
Pleasant smell
Skin texture looks even
Gives a matte finish
Cons:
Only suits light skin tones
Skinfood Peach Sake Toner
A toner can really make a difference to your face since it helps in eliminating fine particles of dirt and other debris from the skin which might not have been washed away with a cleanser.
This toner from Skinfood contains the goodness of peach which is a nutrient-rich ingredient. The vitamin C present in peach helps in removing any discolourations or pigmentations on your skin, especially dark circles.
It also has anti aging properties that tighten your skin, removes wrinkles and fine lines and effectively reduces the size of your pores.
Cleanses and brightens your skin, relieves sun damage, tightens your skin and soothes inflammations.
Pros:
Contains peach and wine sake
Anti Aging
Removes pigmentation and uneven skin tone
Removes wrinkles and fine lines
Minimises pores
Pleasant smell
Cons:
Might dry your skin
Not recommended for oily skin
Skinfood Royal Honey Moisturising Cream
If you are searching for a moisturiser for your easily triggered, sensitive skin, the Royal Honey 100-hour moisturising cream would be your best bet.
This moisturiser claims to provide intense hydration for your skin for up to 100 hours! Honey has been used as a skincare ingredient since ancient times because of its antiseptic properties and numerous other benefits it provides.
This cream is also recommended for those who have suffered from burn injuries. This product is free of harmful ingredients including mineral oil, silicone oil, artificial fragrance and artificial colourants.
This moisturiser however has to be used within six months of opening the bottle since the ingredients can lose their potency in that period.
The tube contains an open date reminder space where you have to write the opening date so you can be reminded of the six-month deadline.
Pros:
Silicone free
Mineral oil-free
Artificial fragrance-free
Artificial colourant
Suitable for sensitive skin
Cons:
Might not be suitable for acne-prone skin
Skinfood Egg White Pore Mask
Do you think your pores are growing bigger and bigger? Then this mask is for you. Large pores can really affect the texture of your skin and make it look uneven.
Egg white is the main ingredient in this pore mask which is rather unusual for a skincare ingredient. However, it comes loaded with a lot of benefits.
It is also known as albumen and it balances the production of sebum in the face, removes any impurities from your pores, minimises the appearance of pores and tightens them, and gets rid of bad bacteria from the skin.
This mask can be used on all skin types but it is especially recommended for those with oily skin, struggling from excessive sebum production on the face.
The skinfood egg white pore mask also includes other key ingredients such as vitamin B2, vitamin B3, calcium, selenium, magnesium and phosphorus.
This mask guarantees to improve the elasticity of your skin and deep clean your pores to make sure that it is free of even the tiniest dirt particles.
Pros:
Improves elasticity
Tightens pores
Deep cleans face
Suitable for oily skin
Balances sebum
Includes vitamins and minerals
Cons:
Contains alcohol
Thick consistency
Skinfood Royal Honey Propolis Enrich Essence
Do you often experience chaotic skin during a change of seasons? Those unexplainable sudden breakouts and irritations that come out of the blue especially when summer starts?
Then this essence could be your saving grace. Honey is an excellent ingredient for skincare.
It has anti-inflammatory and antiseptic properties which makes it an ideal ingredient to soothe inflammations and irritations.
Honey also helps in improving the immunity of the skin to slow down the process of ageing.
The skinfood royal honey propolis enrich essence is formulated with 63% black bee propolis extract, 10% royal jelly extract and 10% black honey extract.
Royal jelly is a form of nutrient-rich bee secretion that has a milky consistency. It helps to heal wounds and repair damaged skin quickly.
The formula of this essence does not contain any water, instead, it uses matured honey that helps the propolis penetrate deep into your skin.
It also creates a protective barrier around the skin that is strong enough to hold the moisture in the skin and strengthen the barrier.
This can be a great product for people struggling with a broken skin barrier, rough and sensitive skin, acute skin conditions and overall weak skin.
Pros:
Moisturising
Lightweight
Improves skin immunity
Strengthens the skin barrier
Suitable for sensitive skin
Repairs damages on the skin
Can be used instead of a primer
Non-greasy
Cons:
Skinfood Peach Pore Serum
This is another amazing product that is enriched with the goodness of peach and Japanese sake.
Peach is well known for its vitamin C, vitamin A and silica content which is really good for your skin. It helps in fighting the signs of ageing and improving the elasticity of your skin.
Sake, which is a traditional Japanese wine extract, helps in detoxifying your pores and tightening them.
It is also infused with other natural ingredients like liquorice root extracts, soybean, Centella Asiatica and chamomile.
Something that attracted me to this product is the scent. If you love the sweet pleasant smell of Peaches, you will definitely want to make this a part of your everyday skincare products.
This serum is suitable for all types of skin but it is best suited for people with oily skin and huge pores. In fact, this product is specifically created to take care of your large visible pores.
Pros:
Value for money
Reduces the visibility of pores
Moisturises
Can be used as a base for makeup
Brightens your complexion
Pleasant smell
Suitable for oily skin
Cons:
Might not suit sensitive skin
The smell might be too overpowering for some
Skinfood Egg Perfect Cleansing Oil
This is another excellent product that takes care of your enlarged pores. If you have oily skin this oil can effectively eliminate dirt and excessive oil from your face.
The skinfood egg white perfecting pore cleanser contains a higher concentration of egg yolk, albumin and hot spring water that enables gentle cleansing of your skin.
It helps in removing the most stubborn makeup and dirt without being too harsh on the skin. This oil-based cleanser is recommended for oily skin because it helps in balancing the sebum on your face.
It guarantees to offer 5-in-1 action to deep cleanse your skin, absorb sebum, purify pores, refine pores and remove impurities.
Pros:
Reduces the size of the pores
Eliminates blackheads and whiteheads
Mineral oil-free
Removes makeup
Cons:
Might dry out your skin
Might sting your eyes
Skinfood Egg White Pore Foam
This is a foaming cleanser that effectively eliminates any trace of dirt and excess oil from your skin.
It also helps in unclogging pores, controlling acne and eliminating blackheads and whiteheads from your skin.
The albumen in this face wash provides numerous benefits to your skin which includes getting rid of unwanted bacteria and deep cleansing and detoxifying your pores.
This facewash is also suitable for people with oily skin and it also improves the elasticity and vitality of your skin.
Other key ingredients in the facewash are niacin, riboflavin, calcium and phosphorus that helps in gently cleansing your skin while nourishing it.
Pros:
Minimises pores
Suitable for oily skin
Removes blackheads and whiteheads
Improves elasticity
Cons:
Might dry out your skin
Overpowering smell
Skinfood Black Sugar Wash Off Mask
This wash-off facemask from skinfood contains the goodness of black sugar that is organically produced to give you the best quality results.
It is packed with minerals such as phosphorus, calcium, iron, magnesium, potassium and vitamins such as riboflavin, niacin and pantothenic acid.
Panthothenic acid helps in reducing blemishes and controlling breakouts on your face while niacin promotes an even skin tone and heals the damage caused by the harmful UVA and UVB rays of the sun.
The black sugar in this face mask gives it a coarse grainy texture that makes it ideal for exfoliating and removing dead cells from your face. This also gives a nice smooth texture to your skin.
Black sugar also improves the vitality of your skin and moisturises it. It leaves you feeling fresh throughout the day.
This face mask also gives you so many other benefits such as removes pigmentation and gives you an even skin tone, reduces acne and heals damaged skin.
Pros:
Exfoliates
Reduces acne
Moisturises
Contains vitamins and minerals
Makes skin soft and smooth
Gets rid of blackheads and whiteheads
Promotes even skin tone
Cons:
Skinfood Strawberry Sugar Wash Off Mask
This is one of the most popular products from skinfood. Strawberry is a nutrient-rich fruit with anti-inflammatory and antioxidant properties.
The skinfood strawberry sugar mask contains strawberry oil and Brazillian black sugar and helps in exfoliating your face while deep cleaning your pores.
Strawberries are an excellent source of moisture and they will hydrate your skin in no time. It also helps in maintaining a smooth skin texture.
Black sugar is composed of minerals and nutrients. The Brazillian black sugar particles in the mask remove any dead cells and dirt from your pores and the BHA balances the sebum production on your skin and reduces acne.
The best part about this serum is the 5RG pore eraser which is a combination of carrot, tomato, Centella Asiatica, Spanish liquorice roots and green tea. These ingredients work together to effectively detoxify and tighten your pores.
Pros:
Pleasant smell
Moisturises
Contains strawberry and black sugar
Unique 5RG pore eraser blend
Smoothes skin texture
Exfoliates your skin
Detoxify pores
Balances sebum
Reduces acne
Cons:
Might not be suitable for sensitive skin
SKINFOOD Choco Eyebrow Powder – Best Skinfood Makeup
If you want natural-looking brows then this brow powder is a great choice. The mineral powders can be used as brow powder, eyeshadow and even a makeup highlighter.
The natural, nude-brownish shades go well with Asian and darker skin tones. But at the same time, it adds the perfect no-makeup look to lighter skin tones as well.
You can use light and dark powder to create contrasts, build up a shade and give your eyebrows a feathery look.
Pros:
Buildable formula
Light and dark shades
Quality chisel shaped brush for precision
Smooth application
Cons:
Might get too dark on certain skin tones
Brush can cause a lot of product fallout
Also Read:
Best Korean Skincare Products For Acne
BestKorean Anti-Aging Skincare
SKINFOOD Peach Sake Facial Toner
Skinfood products use only the best natural ingredients and are very popular. The SKINFOOD Peach Sake Facial Toner is one of the most renowned Skinfood product worldwide.
Product SKU: JLFHBKR92YI
Product Brand: SKINFOOD
Product Currency: USD
Product Price: $16
Price Valid Until: 2022-06-18
Product In-Stock: InStock